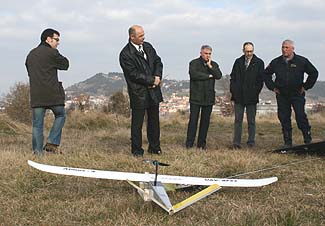 25 Feb

The Home Office of the Catalan Government visits CATUAV

The general secretary of the Home Office, Mr Joan Boada, has visited out installation in Moià in order to know our UAV systems capabilities.
He came with Mr Carles Llussà (director of territory services in central Catalonia), Mr Llúis Torrens (director of services) and a delegation of 10 more people representing the Catalan police, fire and traffic control departments.
The major of Moià, Mr Josep Montràs, welcomed the delegation that visited our installation during two hours recognizing their functionality for the activities that the Home Office performs.